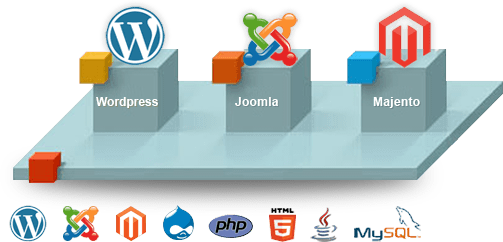 CMS Web Development
A CMS web development where CMS stands for "content management system" allows the user to manage and control his website's content weather he has the technical knowledge or not. Even without the knowledge of HTML, the user can edit the content on his website, he can delete or add any image on his website via CMS.
There are many people who are not aware about CMS web development. They are not aware about the fact that how just a simple knowledge of Microsoft word can help them in the changing the content of their website using CMS. CMS is very useful as there are many companies who find it very difficult to manage their website by their own. CMS is very useful for them that help them to do so.
Matebiz provides you CMS web development services which is here to make your web business experience more than better, Matebiz' CMS web services makes you to edit your website as you want as you know the customer better than anyone. Once you will call us for your CMS web development than your website will be yours.
So be the controller and manager of your own website and boost your business like never before and call Matebiz for CMS web development. Because only the best can make you the Best.
CMS Web Development Delhi
There are many CMS web development companies in Delhi, Delhi is one of those IT market of India to whom you can call the Hub for IT solutions there are numerous large and small development companies in Delhi-Ncr. Specially in Noida and Gurugram where you can find a new start up on every week. So the competition in the market is very high, there are number customers in the market and there are numbers of website developers in the market too.
For CMS web development Matebiz is one the most emerging game changer in the market. Matebiz is here to give you the best services which will boost your business like a rocket. Once you will come to us, we promise you that you will even imagine going anywhere with your problems. Our solutions will be more than enough for your problems. Our developers are highly skilled and experienced enough to give a CMS that will make it easy for you to update your website very easy for you, once you will come to us, our services and product will make you not to go anywhere else for your solution.
You sign in to your own particular site to manage and control your own particular substance. You have finished autonomy and aggregate control! On the off chance that you ought to need any help, then obviously Matebiz is here for you.
Some of the web development trends that can magnanimously change your company include:
The first thing is capability of merging additions with various themes. Design has now began reducing with various features. Various frames of WordPress systems such as Genesis and thesis have grown really well-known owing to the fact that they are easy to use. They come with several plug-ins and others features that make it relatively easier for the SEO designers to employ them successfully in their website developing. With design and function working hand in hand, there are less chances of any disjoint. This results in a smooth performing of the themes as for each individual part on the web pages, there is a separate java coding. The other most important aspect of the CMS trends in interoperability.
A website structure has to be one that is very attractive to and draws the users while also giving them ease of functions. The current market demands a CMS structure where the users can log in from their other accounts. Not just this, they also want to draw out data on other sites, while still on your site. In short, they
want to have a small World Wide Web expertise while they log in into your site. All this needs to be managed through an efficient web structure.
The most recent trend is the addition of mobile performance. But while the digital landscape continues to change at such a rapid rate, what does the future hold for the CMS? The ongoing use of several mobile phones like Apple iPhone, Blackberry mobile phones as well as Tablet; marketing automation; social media as Facebook, Twitter, Orkut; clod computing, specific online marketing tools; and different other trends in the online world have forced the vendors to think of novel ideas so that the customer base gets an excellent experience on their website. As the customers want to access the company information from anywhere on their hand sets, the mobile sites are becoming more popular.
Another trend is the transformation of CMS into "Web Experience Management (WEM)". This helps the marketers to get in contact with their online customer base in a more sophisticated manner. One particular way of doing this is by customizing the imagery displayed and texting depending upon the place of the customer and the keyword and key term or key phrase used for search.
CMS WEB DEVELOPMENT With Matebiz Company
As we know India is a huge market everyone want to be in India and everyone is trying his best to mark his sign here. So which is the best platform for you to promote your brand, yes online world is the best platform to promote your brand and if it is possible for you to promote it as you want to be as you want to edit it, manage and control it, is not it?
CMS web development is the best solution for your such problem. And Matebiz is the best place for CMS development India. Matebiz is one of the emerging web development and design company in India. You can a number of CMS web development company in India but only few have skilled and experienced work power that can actually give a product that can boost yur business like a rocket. So call us today to become the manager of your own website.
One more popular trend is CMS assisting marketing automated. Marketing experts consistently demand for world-class application that enable them to carry out their digital marketing in the most efficient way. But for this, they need to a master a multitude of software and learn to operate them. Here lies the role of CMS that eliminates the need to master different software by offering all procedures at just one place.
The system makes a huge distinction while making a website user and SEO friendly, so it is significant to opt for the right base for constructing a website. Taking all things into consideration; such as an activeness, user and SEO helpful plus easy to manage – Joomla web development is the right solution for such needs. Joomla web development is one of those platforms that not only fit one's budget but also can be managed easily. The other benefit of Joomla website growth is it can be applied in less time as many of the frameworks are ready.
Joomla cms is an open source platform created by the huge number of developers over the world and does not cost extra apart from the development. However, if you opt for the custom Joomla web design then you may have to pay a little bit extra. One of the paramount things about Joomla cms design and Joomla personalization is that you can get an access of making the changes in your website easily without the need of any technical training. Joomla is the best content management system which can meet one's custom need in a short time without paying everything for the platform.
The expert Joomla designers can assure you to meet any customized need for design/website as you want, keeping the focused audience in mind and you will not be limited to templates or layout options. Joomla web growth offers the ample quantity of benefits than any other system. Many Joomla web development companies also allow to hire a Joomla designer who will work just for your project.