LANDING PAGE DESIGNING
Matebiz web design is one of the best in the market who provides you the service of Landing page designing. So to be star on online market give a chance to us.
Before knowing what is Landing page designing we should know what is a Landing Page, The landing page is a page that a guest can touch base at or land on it. Notwithstanding, when examining points of landing inside the domain of showcasing and promoting, it's more typical to allude to a greeting page similar to an independent page unmistakable from your fundamental site that has been intended for a solitary centered target.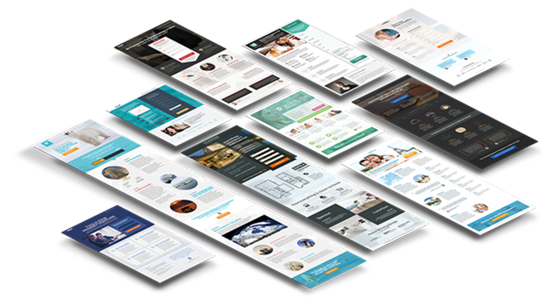 This implies your presentation page ought to have no worldwide route to attach it to your essential site. The primary purpose behind this is to restrict the choices accessible to your guests, controlling them toward your expected transformation objective.read more
Landing page designing for a company is also a part of its online marketing. Some people links Landing page with social media. It plays an effective role in online marketing campaign, On the off chance that the objective is to acquire a lead, the landing page will incorporate some strategy for the guest to get into contact with the organization, for the most part a telephone number, or a request frame. On the off chance that a deal is required, the greeting page will normally have a connection for the guest to snap, which will then send them to a shopping basket or a checkout region.
Best Landing Page Designing Company of India
Landing page plays an important role in any business's online marketing. Your landing page should attractive enough that it can attract each and every visitor of your page and should be dashing enough that it can convert your visitor into your customer. So the company who is designing your landing should have highly skilled and creative designers.read more
Matebiz is one the few companies who provide the best and most creative the services of landing page designing in India. Our designers know how to create such landing page that can attract and hold the traffic because they have tons of the experience in Landing page designing.
You can find a number of designers in India many of them are proclaimed best designer, but how will you judge someone just by words. Yes, there is no doubt that some of them are genuinely very good and may be the best designers. And Matebiz in in a few of them because does not believe in saying, we believe in doing and we promise you that after seeing our work you will not only believe in us you will also make others to believe in us.
Assembling an awesome and A+ grade Landing page can be precarious. There are such a variety of components that a first rate landing page needs, and making those components "as well as can be expected" be frequently relies on upon what you're greeting page objectives are.
Your getting page needs to be clean and simple. Keep in mind that convenience is good. And most people want a simple developed page than with too much fancy images and animated graphics. Two to three shades may be sufficient to use and any font is good, but according to the research, Arial, Helvetica and Geneva are best to use.
As we all know India is a huge E-commerce market, almost each and every only marketing and online market website is present here. And each and every one of them have their own Landing Page, many of them use it for their affiliated marketing. As there no shortage of customers, there is also no shortage of companies who can provide you the service of Landing page designing in India.
Matebiz is one of them and in among the best of them, so why go anywhere else when we are here. Matebiz has some of the best designers of the Best designers for you who will make you say that we are not in among of best, we are the best in the market.
Some Important Factors for Developing A Landing Page
One of the greatest errors that people make when developing a landing page is to include too many links off the page. The function of a getting page is to get your visitor to take no matter what action it is that you want them to take – whether it is signing up for your mailing list, installing a white paper, making a buy or anything else. Good getting page design works like a funnel to direct your guests to take the activity that you want. If you litter your page with information and links that are unrelated to the activity then people will get distracted and click away on those rather than finishing the action. By only offering highly relevant links and details on your landing page you will be more successful in guiding your visitors to go where you want them to.read more
You getting page should be enhanced for your offer or for no matter what you were marketing. You should strive for your marketing, the text on your landing page and the action you want your visitors to take to match up completely and be highly appropriate to each other. The more appropriate you can keep your information the more likely people are to see the value in it and find what they are looking for.
Discussing of value, which is another thing that most people ignore when designing landing pages. A well-developed landing page should not just be a huge push for your product or service, but instead should provide something of value to the people who visit. Value can be a review, product details, helpful advice, a free download, bonuses or anything that makes your visitor feel like they have gotten something out of visiting your page. If you try to directly sell to people they will be less responsive than if you provide them with value and develop a little bit of trust with them and then move into your sales pitch.
Lastly, your page should be clean, well developed and project an expert image. You are trying to build trust with your visitors and if your page looks like it was put jointly by an amateur, people will take it seriously. While you could hire a web developer to create landing pages for you or take the time to learn HTML and graphic design, there are other choices to create stunning getting pages without demanding to know a factor about HTML.